Welcome to 9th ICBMC
Building material is any material which is used for construction purposes. Many naturally occurring substances, such as clay, rocks, sand, and wood, even twigs and leaves, have been used to construct buildings. Apart from naturally occurring materials, many man-made products are in use, some more and some less synthetic. The manufacture of building materials is an established industry in many countries and the use of these materials is typically segmented into specific specialty trades, such as carpentry, insulation, plumbing, and roofing work. They provide the make-up of habitats and structures including homes.
The primary goal of ICBMC 2024 is to promote research and developmental activities in Building Materials and Construction. Another goal is to promote scientific information interchange between researchers, developers, engineers, students, and practitioners working in Singapore and abroad. The conference will be held every year to make it an ideal platform for people to share views and experiences in Building Materials and Construction and related areas.
ICBMC Conference Committee
Tokyo, Japan
February 26-29, 2024
Fraud Alert!
Conference staff will NOT call to ask you pay via phone for registration/lodging/air ticket etc. Please ignore any calls/emails that ask you to pay. If you received any suspicious emails or phone calls send/call from non-official contact, please write to let us know.
Conference Proceedings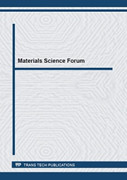 Submitted conference papers will be blind peer reviewed by competent reviewers. The accepted and registered papers will be published in Materials Science Forum (ISSN print 0255-5476 / ISSN web 1662-9752), which is indexed by Scopus, REAXYS, Google Scholar and Index Copernicus Journals Master etc.


Previous Proceedings:
ICBMC 2023-Materials Science Forum (MSF)
ICBMC 2022-Vol. 1067-Materials Science Forum (MSF)-ISBN:978-3-0364-0133-1 (More) | Indexed by Scopus
ICBMC 2021-Vol. 896-Key Engineering Materials(KEM)-ISBN:978-3-0357-1892-8 (More) | Indexed by Ei Compendex & Scopus
ICBMC 2020-IOP Conference Series: Materials Science and Engineering-Vol. 829 (More) | Indexed by Scopus
ICBMC 2019-Vol. 972-Materials Science Forum(MSF)-ISBN:978-3-0357-1530-9 (More) | Indexed by Ei Compendex & Scopus
ICBMC 2018-IOP Conference Series: Materials Science and Engineering-Vol. 371 (More) | Indexed by Ei Compendex & Scopus